In January 2020 EHRA together with Canadian HIV/AIDS legal network and Charitable Fund Ukrainian Network of People who Use Drugs VOLNA submitted the report to the UN Committee on Economic, Social and Cultural Rights on the disproportional sentencing of people who use drugs and their access to health and social services in Ukraine.
In February representative of VOLNA Yanina Stemkovska and EHRA's senior program specialist Maria Plotko presented the report during the 67th session of the Committee. The consideration of the report with the state party took place on February 20-21.
The following questions were discussed during the session. (Day one, Day two)
On March 6, 2020  the Committee published its concluding observations. On the issue of drug use the Committee concluded:
"42. While recognizing the State party's evidence based policies to address drug abuse, such as opioid substitution therapy and harm reduction programmes, the Committee is concerned at the criminalization of possession of very small amounts of drugs, which prevents drug users from gaining access to the necessary treatment or harm reduction programmes for fear of criminalization. It is further concerned at the high prevalence of HIV and hepatitis C infections among those who inject drugs, at the restricted access by prisoners to opioid substitution therapy and harm reduction programmes, and at the persistent social stigmatization of drug users. Lastly, it notes with concern the lack of information requested on the privatization of certain opioid substitution therapy programmes and the authorities' oversight of these programmes (art. 12).
The Committee recommends that the State party apply a coherent human rights-based approach to drug users and consider decriminalizing drug possession for personal consumption. The Committee also encourages the State party to continue its efforts to expand harm reduction programmes, in particular in prisons, and ensure the quality and adequacy of the privatized opioid substitution therapy programmes. The State party should also take the necessary measures to combat social stigma against drug users by training the police, social workers, child protection officers and medical professionals and sensitizing the public, especially about their right to health."
Lost in translation
The discussion between the Committee members and the government delegation is also informative and vividly shows the state's position on the issues related to drug use. If the questions asked by the Committee are clear and straight to the point, the government's answers are very vague, evasive and not really provide the requested information. (One of the barriers for efficient communication between the Committee and the delegation were problems with translation, e.g. some content was lost in the process).
CESCR member Rodrigo Uprimny
"I will deal with the question number 26 in which we ask about measures to provide appropriate medical treatment and social support for persons who use drugs. In paragraphs 286 and 289 in your report you provide us with important explanations. With this explanation we praise the public health approach of your state, drug policy strategy and that Ukraine has been implementing evidence based treatment programs such as opioid substitution therapy and harm reduction measures such as syringe exchange that is very commendable. But two problems persist. First is a problem of implementation – there is evidence of lack of resources and some bureaucratic obstacles that makes these measures not really available for many drug users and sometimes there is still stigmatization in health services for these persons that makes access to these programs even more difficult. The second problem that reinforces the first one is that this health approach is combined with the punitive approach in practice for users. I know that in theory drug use is not criminalized in Ukraine but possession that goes beyond a certain amount can entail prison time according to article 309 of your Criminal Code. And this amount is so low that in practice it implies the de-facto criminalization of drug users which prevents many users to search treatment if needed or to use harm reduction services such as needle and syringe programs which use has dropped a lot. The result is the very high prevalence of HIV and Hep B among people who inject drugs in Ukraine. One of the highest in Europe. Second, many drug users end up in prisons even if they are not involved in any drug trafficking and that deteriorates the health situation because in prison treatments are very precarious. With this context my questions are two:
The first – If the state considers adopting coherent human rights approach in addressing drug use which would imply decriminalizing any possession for use and not keep this contradictory approach in which in one hand you use a public health approach and in the other hand a punitive one.
The second is what are the measures the state intends to take to eliminate the stigma against drug users and to provide adequate financial and administrative support for the proper operation of these programs such as opioid substitution therapy and harm reduction measures.
Finally, we have been informed that some opioid substitution programs have been privatized and we wanted to know what the state oversight of these programs is to ensure their quality and adequacy.
Thank you!"
Reply by Mr. Oleg MATVEITSOV, Head of Section, Division for Monitoring and Observance of Human Rights, Ministry of Interior Affairs
(UN translation) "In response to the comments by NGOs on the criminalization for possession of drugs I would like to say that part 4 of the Artcile 309 of Ukraine Criminal code forsees that a person who voluntarily turns to a medical establishment that provides treatment for drug addiction is relived from criminal responsibility according to Part 1 of the Article 309 of the Criminal code which has to do with the unlawful production, acquiring of, possession of, transfer of drugs or similar products, or precursors. Decision by the Ministry from the 6 of March 2018 confirmed the list of drugs and psychotropic substances and their precursors which are prohibited sale or where the sale is limited. The Ministry of Health of Ukraine on the 1 of August 2000 took decision No 188, adopted a table of small medium and large narcotic and precursors which are illicit, currently unlawfully traded or in circulation. According to article 9 of the Constitution government bodies and local government and officials need to operate within their remit and accordance with the laws and constitution of Ukraine. Observants who monitor the compliance with the law by the police and investigation into offences is done by the prosecutor. They draw up the inditements which are then sent to courts for this type of offence."
Reply by Ms. Valentyna KUDIN, Director General, Directorate for Social Insurance and Pension, Ministry of Social Policy
(UN translation) "I would like to say a few words on the government programs to support such therapies. Ukraine over the past few years has begun a government program for supporting therapy. We are following leading world standards for treating persons with psychological or behavioral difficulties. The purpose amongst other also is to prevent HIV infections and other diseases and we are focusing specifically on the population using drugs and others. The program for replacement therapy was funded by the government budget and continues to be so. The replacement treatment will be part of general medical treatment for the population. We have a register for a timely medical interventions, following this model which is the general information system covering people with HIV infection. The program of the national council to counter TB and HIV infections of the 29 of March 2019 confirmed specific goals relating to the coverage of the replacement therapy and phycological and behavioral issues. And this was a program that was an earmark for the 2019-2021. I would also like to provide you with some information about the outcome of this work. One of the outcomes is that by the 1 of December 2019 the overall number of patients were 12122 persons, of them 10000 received medication in the forms of pills, 188 received through hydrochloride preparations, others received medication of different type. There are altogether 10040 men and 2082 women, patients who come daily for their medical intake – 5000 which represents 50% of the overall number, there are others however that take their medication independently 6000, so a little over 50% of general population received this kind of medication."
Follow up questions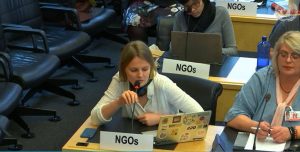 CESCR member Rodrigo Uprimny
"Maybe as the head of the delegation said what I am going to reiterate might be in the answer that has not yet been provided but I wanted to reiterate on the issue of measures for people who use drugs three points:
The first if the government of Ukraine intends to strengthen financially and bureaucratically the opioid substitution therapy and harm reduction programs because they have problems of accessibility.
Second if there is an intention to strengthen them in prisons because there are people incarcerated who depend on drugs and these programs are not available, widely available in prisons.
Third it was mentioned that financial of opioid substitution therapies is by the state. According to the information we received even if they are financed by the state, they are provided by private actors who make the oversite of those centers of opioid substitution therapy in order to monitor their quality.
And finally, the issue of criminalization of users. We were provided with the answer that implies that criminalization of users is de-facto criminalization, we know that in theory they are not criminalized but de-facto because of possession, the threshold for possession they are criminalized, and it seems that you intent to maintain that. And I think that you should reconsider this policy because you are trying to avoid HIV new cases but there are studies, for instance, there is this one study in Lancet in 2016 that shows that one of the main drivers of new HIV infections is in the case of people who inject drugs that is because as they fear criminalization they do not go to harm reduction measures like exchange of syringes. So, I think that in this case you are somewhat like this very well known literary world by Stevenson  Dr Jekyll and Mr Hyde. On the one hand you are Jekyll – you offer for users health services and that is very nice but on the other side you are Mr. Hyde – you threat them that they are going to be criminalized and I am afraid that as in the novel at the end of the day Mr Hyde is winning over Dr Jekyll and that is a pity. So, I really urge you to reconsider this policy of de-facto criminalization of users. Thank you!
Reply by Ms. Valentyna KUDIN, Director General, Directorate for Social Insurance and Pension, Ministry of Social Policy
(UN translation) "Allow me now to tell you how in Ukraine we provide substitution therapy. There is a guideline which was adopted by a ministry of health decree which sets out the rules and procedure for substitution therapy for people who suffer from opioid addiction. It is often said that a person is between the devil and the deep blue sea when they are dependent on drugs and at the same time facing the criminal liability because of their drug use this was acknowledged by our government and therefore there are ongoing discussions about the possibility of amending the legislation relating to the prevention of this illness and the protection of the rights of the relevant drug addicts."