EHRA Steering Committee is the primary governance and decision-making body of the Association. EHRA Steering Committee is elected by the members of EHRA, and its functions are regulated by the Association's Statute. Its responsibility is to facilitate the achievement of EHRA mission by developing and implementing policies, strategies and operational principles. The members of the Steering Committee are elected by the general assemblies of the Association members (in-person or through online voting) for three-year terms. The Steering Committee consists of 13 representatives, 11 of whom represent 7 sub-regions of CEECA, and two of whom represent the drug user community.
All members of the Steering Committee expected to be highly professional and experienced specialists in public health, advocacy and human rights, representing local organizations, working on HIV/AIDS, drug policy and harm reduction. The key areas of responsibility of the Steering Committee are as follows:
• to appoint (elect) and recall the Executive Director of the Association from the candidates proposed by the Chair or Co-Chair(-s) of the Steering Committee or through the procedure of public tender;
• to take decisions regarding the establishment of other legal entities or to take decisions to become a member of other legal entities;
• to identify key priorities for the Association in harm reduction, public health, and human rights, providing perspectives from all CEECA sub-regions and key drug user populations;
• to identify key opportunities for the Association to promote harm reduction, public health, and human rights;
• to set the strategic vision and strategic plan for the Association and approve it;
• to monitor the implementation of the strategic plan and carry out its mid-term review;
• to approve or deny new membership applications to join the Association.
As of October 2018, Steering Committee of the Association consists of 13 members:
Marina Chokheli 
Chair of Steering Committee
Coordinator of Harm Reduction and Access to Medicine programs, Open Society Georgia Foundation (OSGF), Georgia
Marina has been working for OSGF since 2010. Marina have been actively engaged in various areas related to public health, harm reduction and access to Medicines: community mobilization; strengthening and capacity building of community organizations and activists, promoting human rights of vulnerable groups (people who use drugs, OST patients, people living with HCV, HIV/AIDS, sex workers, LGBT community); drug policy and promoting humane and efficient law enforcement policies and practices affecting vulnerable groups; advocating, developing and launching of the first National Hepatitis C treatment programs in Prison and for general population in Georgia. Marina's current professional interests focus on such areas as drug policy, transparent and accountable decision-making in healthcare, budget monitoring, gender-based violence of Women Drug Users, Sex workers, Transgender people, innovative medicines, etc. 
Alexander Levin
Co-Chair
Community of people who use drugs, Russia
Alexander graduated from the Faculty of Journalism of the Moscow State University. Having worked for more than 10 years as a journalist in various Russian media, in 2002 he came to harm reduction. He conducted trainings and was engaged in information work in various international and Russian non-governmental organizations: AFEW, Central and Eastern Europe Harm Reduction Network (now the Eurasian Harm Reduction Association), All-Russian Harm Reduction Network, UNAIDS, etc. After that, in 2007, he was engaged in communications and advocacy in the self-organization of drug users "Kolodets". In 2007-2008 Alexander managed the development of a manifesto for drug users living in the region of Eastern Europe and Central Asia "Nothing for us without us", and advocacy manual on the interests of drug users under the same name. He worked in the Andrey Rylkov Foundation (FAR) as an outreach worker in the project "Harm Reduction – Moscow". Since 2017, Alexander is the information manager of the Eurasian Network of People Who Use Drugs (ENPUD).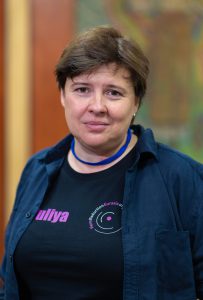 Yuliya Georgieva
Co-Chair
Center for Humane Policy, Bulgaria
Yuliya has been involved in harm reduction and drug policy activities in the last 15 years and she believes that this is her professional path and fate. Apart from the work in my home country, she also has some international experience and good view on the international and particularly European developments in the area of harm reduction and drug policy. She is the chair of "Center for humane policy", the organization which main activities are connected to harm reduction, drug policy and drug-related education. Also Yuliya is the PWUD community representative in the project "FAST-TRACK TB/HIV RESPONSES FOR KEY POPULATIONS IN EECA CITIES" for Sofia. With her partners from PWUD community they have a lot of goals regarding to that project but the most important one is to establish and run effective and strong community organization which is going to work for the interests of PWUD community. She has solid knowledge about at least three important harm reduction target groups: drug users, sex workers and LGBT people – she has worked with the three of them in practice for long time. Yuliya has clear understanding about their needs – as well as of other vulnerable and socially excluded groups – and a clear idea about how the societies should change their attitudes and actions in order to reduce social exclusion and achieve more justice and equality for all.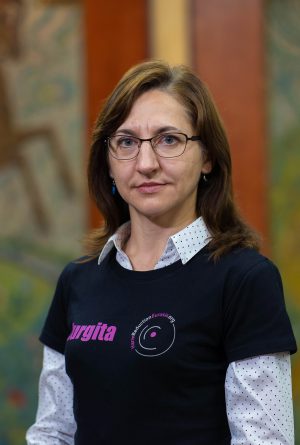 Jurgita Poskeviciute
Treasurer
Coalition "I Can Live", Lithuania
Jurgita Poškevičiūtė, MS in Non-Profit Management (New York, USA), has over 20 years of  experience of NGO work in Lithuania and abroad. Currently works as Director of A Coalition "I Can Live", an association of non-governmental organizations and experts, active in advocacy for evidence-based responses towards drug-dependence issues and drug policy. Jurgita Poskeviciute has a track record of over 12 years working in the field of policy and advocacy for access to services for people who use drugs and/or live with HIV/AIDS, especially harm reduction. This includes wide consultations with all state, municipal and NGO stakeholders, conducting analysis and drafting recommendations to the state agencies on amendments in legal acts on access to services, developing recommendations for national strategic documents on response to HIV and drug use issues. Skilled managing international and local projects and has experience in policy analysis, strategic planning, budget development, NGO board development.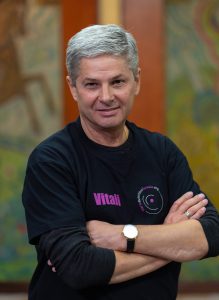 Vitaly Rabinchuk
Community of people who use drugs, Moldova
Since 2003 Vitaly has been engaged in activism, human rights activities, development of the community of people who use drugs in Moldova. Vitaly has expertise in the field of community mobilization, harm reduction, drug policies. He has passed a way from a user of services (1998), a volunteer (2003), an outreach worker (2004) to the project coordinator of Harm Reduction programs (since 2007). In 2014-2017 Vitaly worked as a regional assistant for the development of a community of people who use drugs, in 2015-2016 – as a specialist in organizational development in the Eurasian Network of People Who Use Drugs. Vitaly represents the community of people who use drugs in the Committee of Communities of Vulnerable Groups and Key Affected Populations in the Republic of Moldova. Vitaly is the leader of the national association of people who use drugs, national trainer in Harm Reduction programs in the Republic of Moldova, member of CCM representing the community. Vitaly has experience in conducting research in the areas of surveillance, legislation, monitoring and evaluation, and advocacy. He took an active part in the development of various methodologies and guidelines in the EECA region.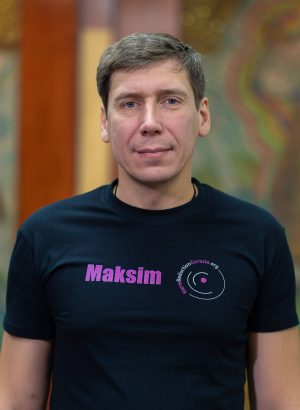 Maxim Malyshev
The Andrey Rylkov Foundation, Russia
Maxim has been working in the field of harm reduction, HIV prevention and social work in general since 2004. He has progressed from being a project volunteer to a staff outreach worker, then to a social worker in palliative care for children to the head of the Harm Reduction – Moscow project. For the last three years he has been focusing on sharing my personal knowledge and experience in social work as well as the lessons learned during the project by holding seminars, training workshops and internships on the basis of Andrey Rylkov Foundation.
Vitaly Lavrik
The All-Ukrainian Association of People with Drug Addiction charitable foundation, Ukraine
Education: Igor Sikorsky Keiv Polytechnic Institute, degree in Medical devices and systems. Vitaly also graduated from the Harm Reduction Academy in July 2016. He started working in harm reduction projects in November 2009 as a pharmacy coordinator in Kiev. Since then he has been a volunteer and an activist in the field of harm reduction and public health and has also worked in several organizations involved in HIV prevention and harm reduction: he was a consultant on HIV/AIDS, drugs and drug policy in the Public Health Alliance (Kiev, Ukraine) in 2017; between 2016 and 2017 Vitaly served as an expert and consultant on HIV and safe behaviour at the Elena Pinchuk ANTI-AIDS Foundation. Currently he works as a moderator and online consultant at the Safe Connection platform (educating teenagers, youth and adults on aspects of living with HIV, drugs, harm reduction programs among vulnerable groups, safe sexual behaviour and a healthy lifestyle). He actively participates in the advocacy for availability of Harm Reduction and ART programs, for treatment and diagnosis of viral hepatitis and TB in Ukraine and in the region of Eastern Europe and Central Asia. He has experience of working as a social worker and a senior social worker for NGOs in Kiev. He is the Regional Representative of the "All-Ukrainian Union of People with Drug Addiction" in the Kiev region. He took part in organising and holding many campaigns in Kiev, including "Support do not punish", "World Day Against Viral Hepatitis" (2016-2017), as well as in the campaign timed with the International Overdose Awareness Day on August 31, 2017 as well as other events and campaigns at a national, regional and local level in Kiev and Ukraine. He is an active participant in the National Platform of Key Communities (Ukraine), Viltaly helps other activists, NGOs and other organizations in expanding substitution therapy and help build partnerships between NGOs, state institutions and doctors (for example, he helps train family doctors to manage cases of stable patients, hold workshops on STIs, seminars, conferences etc).
Oksana Ibragimova
Kazakhstan Union of People Living with HIV, Kazakhstan
Oksana has worked in harm reduction since 2009. She started as an outreach worker for PWID, distributing syringes, condoms, motivating drug users to get tested for HIV. She landed a job as a social worker in the "Trust Plus" Public Foundation in 2011, where she worked as a peer consultant aiming mainly to help develop adherence to ART and treatment retention. In the same year, a mutual aid group was organized for PLHIV/PWUD. In 2014, Oksana got a job at as an advocacy specialist for the Kazakhstan Union of People Living with HIV under the "Harm Reduction Works – Fund it!" project. She represents the interests of the community of people who use drugs at a national level and participate in all important events as an expert on drug policy.
Aibar Sultangaziev
Association "Partner Network", Kyrgyzstan
Aibar has been working in harm reduction programs since 2005. As the head of the NGO "The Right to Life," he organized and provided services for people who inject drugs in the Chui region. Since 2009, he has become the head of the "Partner Network" Association, which includes 26 NGOs from all regions of the country, and works mainly with key population groups, including drug users and people living with HIV. The main mission of the Association is to advocate and protect the rights of key population, increase community capacity, ensure the sustainability of programs related to HIV, TB and hepatitis. The Association participated in the development of 2 state programs in the field of HIV, the development and promotion of a number of documents in the field of HIV, including service standards for people who inject drugs, programs of state social procurement in health care, development of country proposals to the Global Fund, and so on. From 2010 to 2016 Aibar was a member of CCM of the Kyrgyz Republic, a member of the EHRN Steering Committee. As an expert, he provided technical assistance for the development of HR programs in Central Asia, conducted an assessment of OST programs in the Kyrgyz Republic and an assessment of HR programs in Uzbekistan.
David Pešek
SANANIM, Czech Republic
David works for long time in SANANIM NGO – one of the largest non-governmental organizations in the Czech Republic that provides complex services for drug users. He works in the field of addictology since 2003. He is manager of drop-in center SANANIM for few years now. He always found very important to incorporate humane approaches toward the work with drug users. David always found important to educate the society and try to destigmatize the community. He is big promoter of Harm Reduction interventions.
Ala Iatco
Union of Organizations Working in the Field of HIV Prevention and Harm Reduction, Moldova
Ala has 18 years of experience in implementing HIV prevention and harm reduction programs in the Republic of Moldova. Since 2000, she has been the head of the Association "Youth for the Right to Life" in Balti, which is known in the country as a promoter of successful practices in prevention work with injecting drug users. In 2004, she actively participated in the creation of a Harm Reduction Network in the country currently known as the Union of Organizations Working in the Field of HIV Prevention and Harm Reduction, holding the position of the President of the Union. Over the years, she has been actively involved in the development of guidelines, instructions and standards regarding the work of harm reduction programs in Moldova. The activity of the Union focuses on promoting sustainability and long-term harm reduction programs and increasing government support. Ala has a Master's Degree in the field of social security and protection of the population, as well as Master's in public health management. Along with activities in the civilian sector, she gained academic experience working as a lecturer in the Alecu Russo State University.
Samir Ibiševic
Association PROI, Bosnia and Herzegovina
Leadership and management experience with strong analytical and conceptual skills and proven ability in the development and direction of organizations, programs and processes involving a diverse and complex range of partners and stakeholders.
Proven track of strategic planning, human resource management and budgeting. Substantial experience in designing, implementation, monitoring and evaluation of harm reduction programs.
Since 2001 till today Samir is a Founder and president, Association PROI, since 2016 is a Director at Balkantina d.o.o. Samir has founded NGO which have growth from small grass-root organization to one of the most effective organization in the region. He built up and management of multi-ethnic team of 30 professionals and launched innovative and effective programs which cover more than 2000 users in different cities on annual basis. Samir launched first in Bosnia: non-religious drug rehab program; pharmacy-based harm reduction program; gender sensitive harm reduction approach; drop-in center approach.
Dominika Jašeková
"Odyseus", Slovakia
Dominika is Director and outreach worker at the oldest harm reduction organization in Slovakia "Odyseus", which works with people who use drugs, sex workers and young people who are experimenting with drugs. Dominika studied psychology in Bratislava and Krakow. Dominika represents "Odyseus" in several expert working groups on national and international level. People who use drugs are still strongly stigmatized in Slovakia, therefore breaking down the prejudices and improving the living conditions of people who use drugs is something that makes sense to her every day. Working in "Odyseus", Dominika focuses on meaningful involvement of people who use drugs.