Eurasian Harm Reduction Association (EHRA) is a non-for-profit public membership-based organisation, registered by the initiative of harm reduction activists and organisations from Central and Eastern Europe and Central Asia (CEECA) in 2017.
We strive for a progressive human rights-based drug policy, sustainable funding advocacy and quality of harm reduction services oriented on needs of people who use drugs.
SUB

-REGIONS
Baltics, Central Europe, South-Eastern Europe, European Countries of the Commonwealth of Independent States, Caucasus, Russia, Central Asia
COUNTRIES
Albania, Armenia, Azerbaijan, Belarus, Bosnia-Herzegovina, Bulgaria, Croatia, Czech Republic, Estonia, Georgia, Hungary, Kazakhstan, Kosovo, Kyrgyzstan, Latvia, Lithuania, Macedonia, Moldova, Montenegro, Poland, Romania, Russia, Serbia, Slovakia, Slovenia, Tajikistan, Turkmenistan, Ukraine, Uzbekistan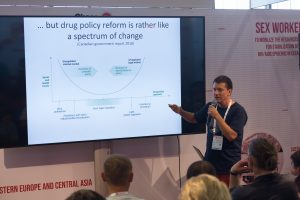 EHRA announces a Drug policy regional consultation
June 27, 2018
Dear colleagues, dear EHRA members! Eurasian Harm Reduction Association (EHRA) is launching a regional online consultation to define its priorities in the area of drug policy and human rights of people who use drugs in CEECA that would guide our future activities in 2018 – 2020. The strategic framework of our
Read more.