Eurasian Harm Reduction Association (EHRA) is a non-for-profit public membership-based organisation, registered by the initiative of harm reduction activists and organisations from Central and Eastern Europe and Central Asia (CEECA) in 2017.
We strive for a progressive human rights-based drug policy, sustainable funding advocacy and quality of harm reduction services oriented on needs of people who use drugs.
SUB

-REGIONS
Baltics, Central Europe, South-Eastern Europe, European Countries of the Commonwealth of Independent States, Caucasus, Russia, Central Asia
COUNTRIES
Albania, Armenia, Azerbaijan, Belarus, Bosnia-Herzegovina, Bulgaria, Croatia, Czech Republic, Estonia, Georgia, Hungary, Kazakhstan, Kosovo, Kyrgyzstan, Latvia, Lithuania, Macedonia, Moldova, Montenegro, Poland, Romania, Russia, Serbia, Slovakia, Slovenia, Tajikistan, Turkmenistan, Ukraine, Uzbekistan
EECA Regional Communities Consortium is created
December 21, 2017
A Memorandum to create an EECA Regional Communities Consortium has been signed on December 20, 2017 in Kyiv, Ukraine. The goal of the Consortium is to unite the efforts of key populations networks of Eastern Europe and Central Asia (EECA) in developing a long-term multi-country program on increasing efficiency and
Read more.
Harm Reduction Beyond Numbers
December 18, 2017
Author: Péter Sárosi, Drugreporter How cultural attitudes, the political environment, and donor expectations shape harm reduction – and how they can divert it from its original mission as a movement. We have been producing movies about drug policies since 2007. Through all these years, we have been traveling a lot
Read more.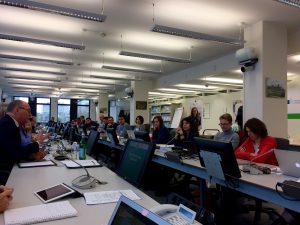 Healthcare for people who use drugs in Europe
December 18, 2017
Author: Yuliia Holub Today and tomorrow, EHRA representatives work actively as the members of core group of EU HIV/AIDS, Hepatitis and Tuberculosis Civil Society Forum (CSF) in Luxembourg and during the plenary meeting. CSF (on European level) is a providing platform for mutual learning and strategic thinking to improve policies
Read more.