On 26 July, 2018, at the 22 International AIDS Conference in Amsterdam, EHRA hold a consultation on the areas of drug policy reform in the Central and Eastern Europe and Central Asia (CEECA) region.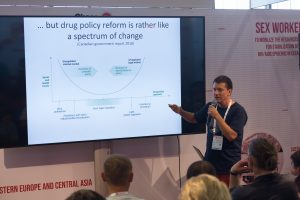 It turns out that in the Netherlands, drug use is prohibited and there is no formal legalization, which did not prevent this country to become famous for its coffee shops. It turns out that Kyrgyzstan is a much more progressive country than the Netherlands, because for ten years already possession for personal use is formally withdrawn from the Criminal Code, and with the adoption of a new Code of Offenses will not be an administrative act; but it does not make lives of people who use drugs easier, because the payment of a fine for possession, will take six months to work… It turns out that in Ukraine, women who use drugs, feel safer than before – the risks to be imprisoned for drugs are less, but formally no changes in drug policy in recent years has not happened … It turns out that in Georgia the prohibition on the use of drugs violates the Constitution, but will the recognition of this fact by the Constitutional Court lead to legalization of drugs? – Great question.
So where should we, EHRA, bring our forces into reform of drug policy at the regional level, if its de jure and de facto sides are so contradictory? Moreover, in CEECA, with so various legislation and practices, as well as so different levels of development of the community, which is ready to push forward this reform.
Of course, it was not possible to discuss all details of our common position on drug policy in an hour. But the main goal of the consultation was achieved – to identify the common attitude of the EHRA members to pushing of de facto decriminalization. Which means, to create special conditions in the countries of the region, when any action related to the manufacture, buying and possession of drugs is not punished. Neither in criminal proceedings or penalties, which are often even more burden than imprisonment. But ways to achieve this goal will differ in countries of CEECA. And EHRA should become the center of information and technical support, accumulating the best regional and international experience of actual decriminalization.
Video of the Consultation "Criminalization of drugs, health and human rights in the CEECA countries: what is the goal of civil society?" in EECA Zone at AIDS2018.
To participate in EHRA's drug policy consultation, you can also join the official group on facebook "EHRA's drug policy consultation".