EHRA Senior Program Officer Maria Plotko spoke with chairwoman of the board of the Club " Svitanok " Svetlana Moroz about their study on "Access of women who use drugs to sexual and reproductive health, HIV and harm reduction services in Donetsk and Lugansk oblast", advocacy for the rights of women who use drugs, and the situation with gender-sensitive services in Ukraine.
Club " Svitanok " is the first organization in Donetsk region created by HIV-positive people who use drugs. Club "Svitanok" provides assistance to HIV-positive and drug dependent people. Since 2012, Svitanok  focuses on working with marginalized women.

Could you please tell us about your research? How did it appear and what are the results?
It all started in 2018, when began planning our first large project aimed specifically at sexual and reproductive health of women who use drugs in Donetsk and Lugansk oblast. This is a zone of military conflict in Ukraine. The project was funded by "Doctors of the World" (Médecins du monde) from their office in Paris. There were three main objectives. First to improve access to services, second to assess the needs, and third to build a network of friendly medical institutions and doctors.
As part of the second objective on needs assessment, we decided to conduct a community-led research. As a result, we interviewed 150 women who use drugs. 100 from Donetsk oblast, 50 from Luhansk. This study helped us better understand the socio-economic , and other barriers including internal ones related to armed conflict, which prevents women from accessing the sexual and reproductive health and other services.
We conducted two roundtables in Severodonetsk in Kramatorsk, where we invited as many stakeholders as it was possible – government officials, representatives of law enforcement and social services. Of course, representatives of the community of people who use drugs, women who use drugs. At the beginning of last year on the basis of the study report we prepared questions for the List of issues for  Ukraine  in the context of the implementation to the UN Convention on the Elimination of all forms of Discriminations against Women (CEDAW) and spoke at the meeting of   the Committee in Geneva.
How did the stakeholders in Ukraine react to the results of your research?
Ambivalently. In Severodonetsk I remember the woman who is responsible for the supervision over the work of law enforcement bodies, when hearing some of the stories about police violence, asked to send her the link to the full text of the report to check it out. We, in turn, on this round table learned that during the reallocation of drug addiction center from Luhansk to Severodonetsk,  only the male branch was left and female – not. This means that now drug dependence treatment in hospital is accessible only for men. Local community groups try to push this agenda but, unfortunately, they did not have much success.
In Kramatorsk, a representative of the regional health department was surprised to hear that women did not seek ART. "How is it possible that women did not seek ART? It is available!". So we had to discuss that the availability of ART in the AIDS  Center or in the center for infectious diseases does not always mean that women who use drugs will go there. It might be related to other, so-called social determinants, like stigma, discrimination, poverty, lack of information. The results of our research were also useful to the initiative group of women who use drugs from Slavyansk, when they joined regional coordination committee on AIDS and Tuberculosis.
Do you think the officials heard you? Has this research helped to bring any changes?
Actually, speaking about the work of these regional coordination councils, we are sometimes just glad that they meet. In general, they are quite sympathetic. But on the other hand we would like to see some political will, concrete actions, but this is more complicated.
In the pre-war times, we have had many effective solutions and this partnership gave results. In the current situation, HIV – positive people, key communities, unfortunately, have not yet become a priority. We have to prove over and over that you should not disregard these groups. People still have these stereotypes you have treatment, substitution therapy therapy, ART – what more do you want?
Therefore, issues related to human rights, stigma, discrimination, and especially gender inequality, are very difficult to convey, to convince officials that these issues matter and must be dealt with. Our study is one of the few resources and arguments.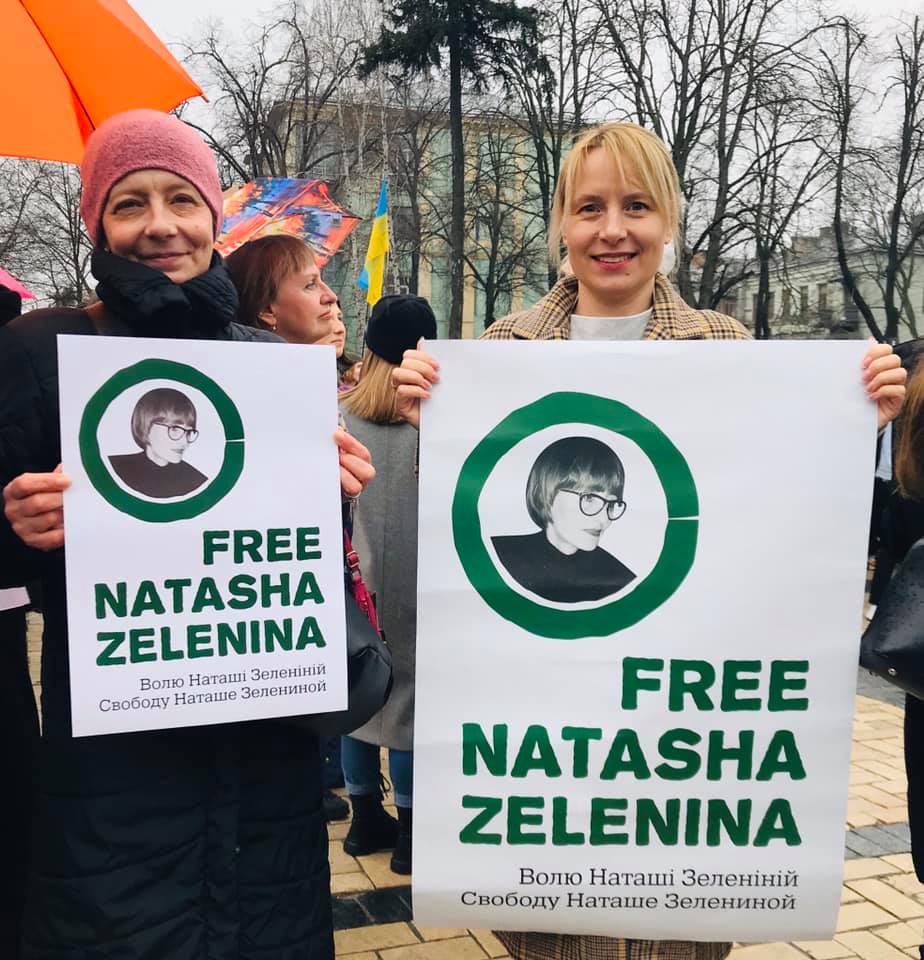 We also shot a film in collaboration with Drug Users News , it is called "Waiting for the Sunrise. Women of Donbass" (Svitanok means sunrise in Russian). In this film there is a part about the woman who was tortured in the Luhansk People's Republic in 2014 for being a patient of opioid substitution therapy. At Svitanok has its own history with Natasha Zelenina , who was sentenced to 11 years for drug trafficking in the so-called Donetsk People's Republic. We are still fighting for her freedom,  the European Court  of Human Rights already issued interim ruling, and Natasha was  included in the prisoners' exchange list, but continues to be held illegally in the occupied territories. When we talk about this at the meetings of Ukrainian coalition on CEDAW, to other women, and feminist organizations, it helps to make them understand why women who use drugs should not be excluded from the feminist agenda.
Could you speak more about the coalition on the report to CEDAW. Is it the first time you participate in it?
As Club "Svitanok" yes. Previously, we engaged with it through national organizations, participated in various meetings. I  like this coalition because it is really very diverse. It includes both women with multiple discrimination, and traditional for CEDAW groups like Roma and rural women. We are fighting for our marginalized women to also become a tradition. This year I was invited to facilitate the session on women living with HIV, and women who use drugs.
Now the finalization of the coalition report is underway, although it is not yet clear when the Committee will consider Ukraine, since Ukraine itself has not submitted the ninth periodic report.
For how long has this coalition exists and who is coordinating it? Does it work only within the framework of CEDAW or does it also deal with other issues?
It definitely isn't its first year, back in 2014 "Positive women" was asked to delegate representative to share expertise on women living with HIV. And in 2017, we were invited to participate in the development of national plan for monitoring of the implementation of the Convention and the recommendations of the Committee. This is also an important that we not only write reports, but also participate in monitoring processes at the country level. The work of the coalition is coordinated by Kyiv Institute of Gender Studies, they have established good cooperation with the Ministry of Social Affairs, embassies and foundations that promote women's equality. 
In November 2020, 140 people gathered at the webinar to discuss report to CEDAW. This is the first time I have witnessed such involvement at the national level. There were womens' organizations from all over Ukraine, plus officials as high as deputy ministers.
Is it possible to build new partnerships through this coalition? Promote issues such as access for women who use drugs and/or living with HIV to shelters for women survivors of violence?
Of course it is possible. I think in some ways we have contributed to the fact that the 2018, Prime Minister Volodimir Groysman signed the new standard position on shelters, which removed  infectious diseases as a barrier. Which means that now women living with HIV have unrestricted access. Although, we still have to work on removing " drugs or alcohol intoxication".
One of the coalition's members is Government Commissioner for Gender Equality Kateryna Levchenko. So there are people responsible for shaping public policy in the context of gender equality and can be our allies.
How would you assess the overall situation with gender-sensitive services in the context of HIV in Ukraine?
Promotion and implementation of gender sensitivity in HIV programs is very ad hoc, not structured, not organized, mostly through the initiative of individual organizations. And I believe that we still have quite limited expertise in this. Although it declared everywhere, but in fact the number of real gender transformative services and interventions is very limited. Usually everything comes down to  "we fund women's organizations." And the idea that gender policies should be cross-cutting in all organizations that work in HIV is not promoted in any way, unfortunately.
There are local governments that try to ban the use of the word "gender" in normative documents altogether, and do not accept gender programs. On top of that the prohibition of equality marches in support of the LGBT community and inter-factional groups in parliament that advocate "traditional values". Soon we will have women's march. We'll see. This is usually a very important event for us.
March 8?
Yes. In Kiev we are usually guarded by lots of police, because often there are attacks, Zelyonka (triarylmethane antiseptic dye) or gas attacks. Sometimes it seems that there are more police officers than participants. March organizing committee is planning security system, communication, organize columns and ambulances, so it would always be nearby.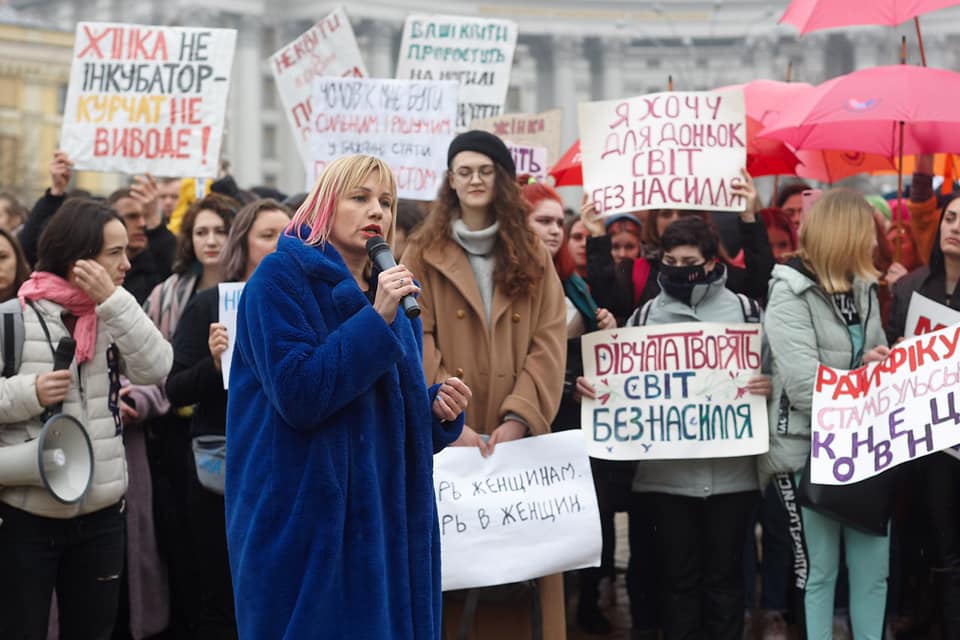 Such a harsh reaction to the fact that women are defending their rights?
As if that wasn't enough, there are anti-feminists and other women who come and try to join us in a column and shout their own slogans "Death to feminism" and all that. And in small towns it is even worse. If the police do not work adequately, then the participants of the marches suffer greatly.
What is the attitude towards women living with HIV and women who use drugs in the march organizing committee? 
It's ok with women living with HIV as long as they don't touch the topic of sex workers and motherhood for women who use drugs.
 Last year we spoke in support of sex work and came across a lot of criticism. The fact that we oppose Article 164 of the Family Code, which says that drug addiction, alcoholism can be grounds for deprivation of parental rights, is also not supported.
Do you think it is likely that 164 article abolished will be abolished any time soon? Are there any advocacy activities on this issue?
Organisation VONA does a lot to promote this. They've created a movie with Drug Users News  "Targets" , and also wrote to the office The Ukrainian Parliament Commissioner for Human Rights. She replied that she "saw no signs of discrimination".
But, nevertheless, we had a big victory last year, on February 25th. On that day, the ECHR ruled  in favor of drug dependent women from Russia who was deprived of her parental rights. On the same day, we won an appeal in court in Dnipro regarding the parental right of HIV positive drug dependent woman. Our activist Luda Kolomoets from "Positive women" worked on this case together with other lawyers.
How accessible is legal aid to women in such situations?
Now this area is actively developing, even the Global Fund supports it. It is already recognized as a priority at the level of national policy, for example, in a strategy for an integrated response to human rights barriers which includes ccess to justice for women from key populations, including women who use drugs.
In 2020, as part of the Eurasian Regional Consortium project "Thinking outside the box: overcoming challenges in community advocacy for sustainable and high-quality HIV services" with the support of the Robert Carr Fund for civil society networks (RCF), EHRA issued 3 sub-grants to promote community-led research. Club "Svitanok".