EHRA Steering Committee is the primary governance and decision-making body of the Association. EHRA Steering Committee is elected by the members of EHRA, and its functions are regulated by the Association's Statute. Its responsibility is to facilitate the achievement of EHRA mission by developing and implementing policies, strategies and operational principles. The members of the Steering Committee are elected by the general assemblies of the Association members (in-person or through online voting) for three-year terms. The Steering Committee consists of 13 representatives, 11 of whom represent 7 sub-regions of CEECA, and two of whom represent the drug user community.
All members of the Steering Committee expected to be highly professional and experienced specialists in public health, advocacy and human rights, representing local organizations, working on HIV/AIDS, drug policy and harm reduction. The key areas of responsibility of the Steering Committee are as follows:
• to appoint (elect) and recall the Executive Director of the Association from the candidates proposed by the Chair or Co-Chair(-s) of the Steering Committee or through the procedure of public tender;
• to take decisions regarding the establishment of other legal entities or to take decisions to become a member of other legal entities;
• to identify key priorities for the Association in harm reduction, public health, and human rights, providing perspectives from all CEECA sub-regions and key drug user populations;
• to identify key opportunities for the Association to promote harm reduction, public health, and human rights;
• to set the strategic vision and strategic plan for the Association and approve it;
• to monitor the implementation of the strategic plan and carry out its mid-term review;
• to approve or deny new membership applications to join the Association.
As of June 2021, Steering Committee of the Association consists of 13 members: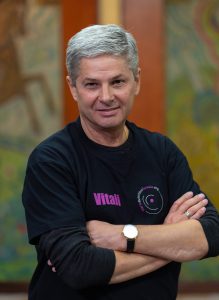 Vitaly Rabinchuk
Community of people who use drugs, Moldova
Since 2003 Vitaly has been engaged in activism, human rights activities, development of the community of people who use drugs in Moldova. Vitaly has expertise in the field of community mobilization, harm reduction, drug policies. He has passed a way from a user of services (1998), a volunteer (2003), an outreach worker (2004) to the project coordinator of Harm Reduction programs (since 2007). In 2014-2017 Vitaly worked as a regional assistant for the development of a community of people who use drugs, in 2015-2016 – as a specialist in organizational development in the Eurasian Network of People Who Use Drugs. Vitaly represents the community of people who use drugs in the Committee of Communities of Vulnerable Groups and Key Affected Populations in the Republic of Moldova. Vitaly is the leader of the national association of people who use drugs, national trainer in Harm Reduction programs in the Republic of Moldova, member of CCM representing the community. Vitaly has experience in conducting research in the areas of surveillance, legislation, monitoring and evaluation, and advocacy. He took an active part in the development of various methodologies and guidelines in the EECA region.
Aleksey Lakhov 
Harm Reduction NGOs Coalition "Outreach", Estonia
Aleksey Lakhov has more than 15 years of experience in the area of HIV and AIDS, viral hepatitis, substance use, and harm reduction. His work experiences include being the Development Director of the largest Russian harm reduction organization "Humanitarian Action" (Saint Petersburg); General Manager of the Harm Reduction NGOs Coalition "Outreach" (Tallinn, Estonia); World Health Organization (WHO) and United Nations Office on Drugs and Crime (UNODC) consultant. Aleksey has participated in numerous researches for peer-reviewed journals on new psychoactive substances and online harm reduction. He has authored a web outreach manual for the UNODC Programme Office in Eastern Europe.
Irena Molnar
NGO Re Generation, Serbia 
Irena Molnar graduated Social Anthropology at the University of Belgrade Faculty of Philosophy, where as a student, and later graduated anthropologist she engaged in the research focusing on related to culture, identities and in the latest period substance use. She is interested in social aspects of substance use that led her professional career development to engagement in drug policy and its reform, on a national scale but as well internationally. Throughout years she was involved in projects regarding vulnerable communities like Roma and youth in risk and in addition she is advocating for implementation of nightlife outreach programs in Serbia and the region. She is co-founder of NGO Re Generation where she is elected Executive Directress, after serving as a program director for 7 years. Irena is active advocate for drug policy reform and sustainability of harm reduction programs, devoted educator and mentor, interested in research focusing in new ways of education and sensibilization of society regarding psychoactive substances and substance use. Since her engagement in drug policy and harm reduction she is  involved in work of the different organizations on the national and many more indicatives organizations internationally, focusing on young people at risk, LGBTQI, NPS and more recently gender equality and WUD.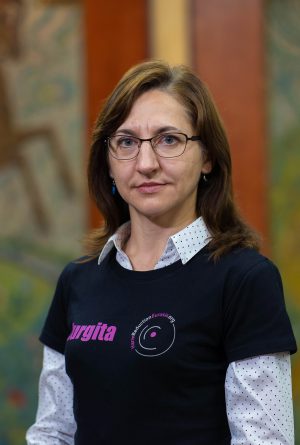 Jurgita Poskeviciute
Treasurer
Coalition "I Can Live", Lithuania
Jurgita Poškevičiūtė, MS in Non-Profit Management (New York, USA), has over 20 years of  experience of NGO work in Lithuania and abroad. Currently works as Director of A Coalition "I Can Live", an association of non-governmental organizations and experts, active in advocacy for evidence-based responses towards drug-dependence issues and drug policy. Jurgita Poskeviciute has a track record of over 12 years working in the field of policy and advocacy for access to services for people who use drugs and/or live with HIV/AIDS, especially harm reduction. This includes wide consultations with all state, municipal and NGO stakeholders, conducting analysis and drafting recommendations to the state agencies on amendments in legal acts on access to services, developing recommendations for national strategic documents on response to HIV and drug use issues. Skilled managing international and local projects and has experience in policy analysis, strategic planning, budget development, NGO board development.
Yanina Stemkovskaya
The All-Ukrainian Association of People with Drug Addiction foundation, Ukraine
Yanina is the leader of the community of people who use drugs / people living with HIV in the Poltava region. She represents interests of people who use drugs. Yanina is a regional representative of the All-Ukrainian Association of People with Drug Addiction (NGO CF "VOLNA"). She is the paralegal and peer-to-peer consultant at the All-Ukrainian Association of Drug Addicted Women (NGO "VONA"). Yanina is helping people who use drugs to protect their rights, to receive quality services and advocates for the needs of people who use drugs. 
Oksana Ibragimova
Kazakhstan Union of People Living with HIV, Kazakhstan
Oksana has worked in harm reduction since 2009. She started as an outreach worker for PWID, distributing syringes, condoms, motivating drug users to get tested for HIV. She landed a job as a social worker in the "Trust Plus" Public Foundation in 2011, where she worked as a peer consultant aiming mainly to help develop adherence to ART and treatment retention. In the same year, a mutual aid group was organized for PLHIV/PWUD. In 2014, Oksana got a job at as an advocacy specialist for the Kazakhstan Union of People Living with HIV under the "Harm Reduction Works – Fund it!" project. She represents the interests of the community of people who use drugs at a national level and participate in all important events as an expert on drug policy.
Irma Kirtadze
Addiction research center "Alternative Georgia"

,

Georgia
Irma Kirtadze, M.D. Ph.D. is an assistant professor for the MA program in Addiction Studies at Ilia State University (Tbilisi). Since 2004, Irma is involved in the clinical, epidemiological & behavioral research on substance use disorders; She has experience in planning, implementation, and evaluation of the harm reduction, HIV/AIDS and HCV prevention programs among people who use drugs. Starting from 2010 Irma has been actively involved in costing, expenditure, and optimization analysis of harm reduction programs. Irma has a long record of working in the harm reduction field for non-governmental and women-led community organizations and has a good knowledge of evidence-based interventions. In 2017 Irma developed national guidelines in Harm Reduction (including protocols of needle & syringe programs, peer education, voluntary counselling and testing, opioid overdose prevention, outreach work). Her research interest includes drug market research, novel psychoactive drugs and medical cannabis.  
David Pešek
SANANIM, Czech Republic
David works for long time in SANANIM NGO – one of the largest non-governmental organizations in the Czech Republic that provides complex services for drug users. He works in the field of addictology since 2003. He is manager of drop-in center SANANIM for few years now. He always found very important to incorporate humane approaches toward the work with drug users. David always found important to educate the society and try to destigmatize the community. He is big promoter of Harm Reduction interventions.
Ala Iatco
Union of Organizations Working in the Field of HIV Prevention and Harm Reduction, Moldova
Ala has 18 years of experience in implementing HIV prevention and harm reduction programs in the Republic of Moldova. Since 2000, she has been the head of the Association "Youth for the Right to Life" in Balti, which is known in the country as a promoter of successful practices in prevention work with injecting drug users. In 2004, she actively participated in the creation of a Harm Reduction Network in the country currently known as the Union of Organizations Working in the Field of HIV Prevention and Harm Reduction, holding the position of the President of the Union. Over the years, she has been actively involved in the development of guidelines, instructions and standards regarding the work of harm reduction programs in Moldova. The activity of the Union focuses on promoting sustainability and long-term harm reduction programs and increasing government support. Ala has a Master's Degree in the field of social security and protection of the population, as well as Master's in public health management. Along with activities in the civilian sector, she gained academic experience working as a lecturer in the Alecu Russo State University.
Denis Dedajić
Margina Association, Bosnia and Herzegovina
Denis has been interested in philosophy of Harm reduction since 1996, when he received the first insights and training from this wide range of activities that save lives and reduce the harm from risky behaviours. Denis, together with other enthusiasts, in 2003 have formed the first organization in Bosnia and Herzegovina based on the principles and policies of Harm reduction, and since then "Margina" is the main organization that provides services, trains other organizations and institutions and promotes and represents the needs of drug users, sex workers and prisoners. Denis aims to assist  the development and promotion of service quality, and advocacy activities in changing drug policies that must be based on human rights and public health policies based on scientific facts. Denis have organized and provided training and counseling services at over 300 events throughout the  career for CSO, police officers, prison staff, social workers, social educators, health workers. He has gained extensive experience and expertise in working with particularly vulnerable and hard-to-reach populations (PWID, SW, prisoners) and provided over 3,000 individual counseling with these populations, for the purpose of treatment and testing for HIV and other blood-borne infections. Denis is  a certified trainer for field workers trainers for Key Affected Populations, a trainer for trainers for HIV/AIDS counselors, a prison care counselor, a leader of many field research and studies on Key Affected Populations.
Dominika Jašeková
"Odyseus", Slovakia
Dominika is Director and outreach worker at the oldest harm reduction organization in Slovakia "Odyseus", which works with people who use drugs, sex workers and young people who are experimenting with drugs. Dominika studied psychology in Bratislava and Krakow. Dominika represents "Odyseus" in several expert working groups on national and international level. People who use drugs are still strongly stigmatized in Slovakia, therefore breaking down the prejudices and improving the living conditions of people who use drugs is something that makes sense to her every day. Working in "Odyseus", Dominika focuses on meaningful involvement of people who use drugs.
Aleksey Kvitkovsky
Ukraine
Aleksey Kvitkovsky has been representing the community of people who use drugs on the EHRA Steering Committee since November 2021. He himself used street drugs for a long time, since 2008 he has been a patient of the OST program. Aleksey has been activist since 2009. Then he realized that apart from ourselves, no one will make our life better, safer, and more comfortable. In 2010, he joined the initiative group and was elected as a community representative in the Association of Substitution Therapy Participants of Ukraine " ASTAU ". Since 2013, Aleksey has been a member of the Eurasian Network of People Who Use Drugs "ESLUN". Aleksey was engaged in advocacy – he initiated orders for the continuity of RRT in TDFs and the introduction of an outpatient form of dispensing RRT drugs in the Luhansk region. Together with partners, he was engaged in the prevention of violations of the rights of key communities.
Aleksey is certified as a trainer and conducts trainings for police officers, medical and social workers, probation officers, school leavers and students. To the extent of his competence, Aleksey always tries to support other key communities, conducts trainings on countering stigma and discrimination against representatives of key communities in the police work.
Since 2018, Aleksey has been a member of the RK of the National Platform for Key Communities. He has gone from the leader of an initiative group to a representative of the community of people with drug addiction in the Luhansk region in the coordinating council to combat tuberculosis, HIV infection and AIDS. From an outreach consultant and case manager of OST sites to a regional representative of the All-Ukrainian Association of People Who Use Drugs "VOLNA" in the Luhansk region.
In December 2021, within the framework of the institutional project ENPUD, with the financial support of INPUD and the Robert Carr Foundation, under the management of the community of people who use drugs, a public organization was registered – "Resource Center of the All-Ukrainian Association of People Who Use Drugs "VOLNA-Donbass", head which is Aleksey. Since 2021, he has been a representative on the expert council on access to treatment – ESPEL ENPUD, and also represents the community of people with drug addiction on the editorial board of the Alliance for Public Health.
The goal of Aleksey's life is to live in a state of law, where the rights of people who use drugs are observed in the same way as the rights of other people, where truthful information about PAS and freedom of choice will be available.
"We are people who use drugs, not criminals, it is the punitive drug policy that makes us criminals! By changing drug policy, we can change the attitude of society towards hundreds of thousands of people and save thousands of young people's lives. Only the legalization of PAS will be able to stop the deaths of young people who use drugs," says Aleksey, "it is necessary to set ambitious goals and gradually, step by step, move towards the decriminalization and legalization of PAS.