Author: Olya Belyaeva, Advocacy Manager, EHRA.
A tank is urgently needed! It doesn't have to be a new one. The tank is needed to transport methadone to hospitals in Kazakhstan. Drug control authorities require paramilitary security for the transportation of drugs. However, the state is not going to allocate funds for security measures and this issue has not been resolved in 10 years.
"Yegor suffered[1]. Not only did his legs get paralyzed and the temperature was high for a week, but he also had to drug himself to narcological clinic (drug abuse clinic) for methadone. Every day for several weeks, relatives called an ambulance so that the paramedics took Yegor to narcological clinic on a stretcher. Yegor, like many other participants in the medical program, was afraid to go to the hospital, because he understood that no one would bring him methadone there and, since he lost the use of his legs, he would not be able to come to narcological clinic himself. An ambulance from the hospital would not take him there as well. So he died at home from purulent (bacterial) pneumonia".
"Every day I carry my friend in my arms to the fifth floor for methadone." That is due to the fact that drug control also affects the behavior and possibilities of care provision by medical personnel.
Isn't it a torture? Yes, the horror of the situation is that Kazakhstan has international programs that finance and help to set up a 'single window' approach. This means being able to diagnose HIV, hepatitis and tuberculosis while receiving methadone. But methadone can only be provided at the consulting room of narcological clinic, because paramilitary security is needed to deliver medicine to people at home care or in the hospital.
Under such circumstances participants of the substitution therapy program, people who use psychoactive substances, coordinators of programs for outreach workers, and leaders of non-governmental organizations met at the training workshop IDUIT Kazakhstan 2019.
The IDUIT Practical Guidance answers two questions:
what to do and how to organize programs to increase the benefits and reduce the risks of using psychoactive substances.
The objective of the IDUIT workshop in Kazakhstan is to develop advocacy plan that addresses methadone delivery to hospitals and home care. Let me remind you that the program has been operating in the country for more than 10 years, and there is still no access to OST medicines in hospitals.
Reasons why people die in agony in hospitals and at home without access to a vital treatment:
Prove what has already been proved, but the Ministry of Internal Affairs does not take into account any evidence anyway.
The experience of introducing methadone substitution therapy was difficult in all countries; there was some resistance at the initial stage from law enforcement agencies. In Ukraine, Georgia and Moldova, there is clear progress towards lowering the level of pressure and the influence of drug control on substitution therapy programs, which has a positive impact on access to treatment and expanding the range of services (e.g. takeaway doses in Ukraine and Moldova). In Moldova, treatment can also be continued in prisons.
In 2007, treatment with buprenorphine and methadone also started in Uzbekistan. One hundred and forty-seven people got access to substitution therapy services. Three years later, the Ministry of Health of Uzbekistan decided that the program was inappropriate and closed access to treatment since 2009. [2]
In the Republic of Belarus over the past few years, the number of program participants has decreased by half – from 1,200 to 650 people by the fall of 2019. And this is not surprising. The substitution therapy consulting room can be located at the building of morgue and work from 6 a.m. for only 45 minutes. The maximum dose of methadone is 20 mg. Also, police officers can detain the patient of OST program right after taking the medicine without any reason, and take him/her for examination of the state of intoxication or to conduct unreasonable search in the street, arguing that there is a risk of taking the drug away from the consulting room. For already two years, NGO RSPA "Your Chance" has been seeking authorization of an updated instruction on organizing OST programs, which, among other useful improvements, includes takeaway doses[3].
In the course of the UNODC Regional Meeting in 2018 the Ministry of Internal Affairs of Kazakhstan officially declared that they were against the substitution therapy program in the country[4]. As a result, the program is 10 years old and only 300 people out of hundreds who need treatment have access to it. To date, the Ministry of Internal Affairs in Kazakhstan "agreed" only on the availability of methadone due to increased adherence to HIV treatment. This means: keep the program in pilot mode while there is international money and influence in response to the HIV epidemic.
What the "pilot" regime for 10 years looks like: registration of the "methadone" drug ends in 2020. Since 2020, it is not clear which of the pharmaceutical companies will be engaged in procurement of the drug. "SK-Pharmacia" that is currently involved in methadone procurement officially refused to keep working with "methadone" medication.
For already 10 years our community of people who use psychoactive substances and people living with HIV prove what has already been proved: the substitution therapy program works! Each of us is a living proof. People want to get services they need in case there is adequate access to treatment at any time, in hospitals, at home, at the regional police department, in pretrial detention centers, and prisons. The approach to substitution therapy should not be defined from the focus of HIV infection, but from the needs of people addicted to opiates.
First get infected with HIV, then you might get methadone. Treatment for opiate addiction and risk reduction programs have become tools in addressing the spread of HIV. The life and health of people who use psychoactive substances is not considered to be self-sufficient value in this context.
Thanks to a strong community of people living with HIV in Kazakhstan, the program persists in the country. In the context of repressive drug policies, it is difficult for people using substances prohibited by law to speak publicly and advocate for their rights. But there is no way out, we must take risks. Otherwise, torture and death in agony will continue. And this happens in countries where since 2000 year millions of dollars have been invested and paid for the jobs of hundreds of experts working in projects aimed at overcoming legal barriers and organizing services based on the community needs.
IDUIT workshop in Kazakhstan – the results of the workshop participants' work (Kazakhstan and Kyrgyzstan): 
IDUIT Chapter 1. Community Empowerment. «Significant» community involvement. We conducted a self-assessment of the level of community participation in decision-making in Kazakhstan using approach of "the Ladder of Citizen Participation" developed by Sherry R. Arnstein and came to the conclusion that advocacy activities of the community remain at the level of symbolic measures, but cannot rise to the level of civil governance.
IDUIT Chapter 2. Legal reform, human rights, stigma and discrimination. Messages used in programs on HIV and tuberculosis have reinforced social stigma against people who use psychoactive substances. The name of our community is associated with problems we did not cause. Instead of writing: "What government actions have led to the HIV epidemic among people who use psychoactive substances", we read the headlines of reports/ webinars/ seminars "… PWUD and HIV" and "Tuberculosis, Prisons and Drugs".
The workshop participants discussed how to determine the level of risk of public actions and what tools we can use to reduce these risks. On the one hand, the status of a participant in a legal methadone program makes it possible to talk publicly about the experience of drug use and act in the interest of the community. In this way, we become less vulnerable to police pressure. However, our vulnerability is increasing due to the actions of medical personnel. Unfortunately, most narcologists (drug abuse therapists) do not want to change the approach to implementing the program (they resist starting takeaway doses and other necessary services). In order to reduce the risks of provocations and conflicts with personnel or other clients of the substitution therapy program that aim to exclude the activist from the medical program, proactive people formed a group called the Kazakhstan Harm Reduction Network. The Network also advocates for the improvement of the quality of substitution therapy program. To reduce pressure on particular person, the team of the Kazakhstan Harm Reduction Network comes to the city and documents the violations, which are then published and /or addressed at the level of state institutions /councils. Valentina Mankieva from the Kazakhstan Harm Reduction Network shared her knowledge about risk assessment gained at the Safety workshop (Safety INPUD and ENPUD, 2019).
IDUIT Chapter 3. Health and Support Services answers the question: What services should be implemented for people who use psychoactive substances.
Due to the increase in the use of new psychoactive substances, information is needed for NGOs and physicians on how 
to help people who experience unforeseen negative side effects when using psychoactive substances of untested composition and purity. For this purpose, we decided to consult with communities of people who use stimulants in Almaty, Temirtau, Uskaman, Semey, Pavlodar, Karaganda, Nur-Sultan in order to adjust the Leaflet "Risk Reduction. Salts /Spices" created by people who use stimulants in the course of the IDUIT workshop in Belarus.
The materials used in risk reduction programs in Europe – gelatin capsules that allow a person to take the substance correctly (MDMA and other salts, amphetamine) as well as kits for using substances (smoking) – were introduced to the workshop participants.
IDUIT Chapter 4. Service Delivery Approaches answers the question: How to develop and implement programs properly?
IDUIT Chapter 4.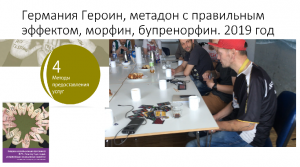 Videos were shown about the Heroin program in Denmark (Heroin in therapeutic settings / Part 1 and A lamp for veins / Part 2) and Germany (Ali, BerPWUD) as practical examples of the values of respect, acceptance, and support. We also showed what Kazakhstan community is seeking to achieve, how substitution therapy programs should work. The video on the Medical-grade Heroin Program in Denmark was a shock to many participants.
People understand that the way substitution treatment programs are organized in our countries now means humiliating and often life-disturbing control by the narcology and police.
IDUIT Chapter 5. Programme Management
Based on the Practical Guidance for Collaborative Interventions on Comprehensive HIV and HCV Programmes with People Who Inject Drugs (IDUIT), the workshop participants prepared and conducted  community-organized discussion meeting with representatives of the Republican AIDS Center, Psychiatry and Narcology, and regional directors of the UN agencies in order to understand what actions could help to address the issue of changing the approach to people who use psychoactive substances in the Republic of Kazakhstan.
On the photo: Discussion Moderator: Sergey Bessonov, Association Harm Reduction Network (the Republic of Kyrgyzstan)
Delegated representatives of the community of people who use psychoactive substances /IDUIT workshop participants:
Sergey Shchetnikov – Kazakhstan Harm Reduction Network – task: to clarify what participants of the discussion know about the situation in the community of people who use stimulants and which actions they plan to take;
Natalia Rudokvas – Kazakhstan Harm Reduction Network – task: to clarify who is responsible for the procurement and supply of methadone in 2020, and what measures are being taken by the Republican AIDS Center and Narcology to deliver methadone to hospitals and home care settings;
Oksana Ibragimova – Kazakhstan Network of People Living with HIV – task: to organize the process of negotiations between the community and people who influence decision-making processes.
From organizations working in the field of providing support to people who use psychoactive substances, HIV prevention, protection and the restitution of rights:
Amanzholov Nurali – Central Asian Association of People Living with HIV, Head of Organization
Tumenova Bakhyt Niyazbekovna – CF "Aman Saulyk", Director
Petrenko Irina Ivanovna – the Republican AIDS Center
Davletgalieva Tatyana Ivanovna – GFATM National Coordinator
Goliusov Alexandr Timofeevich – UNAIDS, Director of the Central Asian Regional Office
Bolyspaeva Gulnur – UNODC Country Coordinator
The "win-win" strategy put into practice the basic principle of human interaction: winning of the one partner is more effective if conditions are created for the successful performance of all partners.
People who make or influence decisions are in no hurry to create the conditions for successful work of community organizations. First of all, each one of the employees of agencies and institutions that receive resources to reduce legal barriers in the lives of people who use psychoactive substances should be at the forefront of advocacy for changes in drug policy.
In the context of drug policy, different regions of the world are like different planets. When the training participants watched a video on how the heroin program in Denmark was organized, they were shocked.
"I would not have believed it if I had not seen it happen with my own eyes" Bolat, OST program participant, Kazakhstan.
Unfortunately, in our EECA region, the task is to find money for the tank to deliver methadone to hospitals in Kazakhstan.
Contacts for assistance in advocating access to methadone in Kazakhstan hospitals:
Kazakhstan Harm Reduction Network, Natalia Rudokvas nataly.rudokwas@mail.ru
Kazakhstan Network of People Living with HIV, Oksana Ibragimova oksi.29_75@mail.ru
Blog prepared by Olya Belyaeva, EHRA, IDUIT trainer olga@harmreductioneurasia.org
[1] The name has been changed.
[2] EHRN (2010). Opioid substitution therapy in Central Asia: towards a diverse and effective treatment for drug dependence. Authors: Latypov A., Otiashvili D., Aizberg O., Boltaev A. EHRN: Vilnius.
[3] Research by RSPA "Your Chance": "To identify and influence the readiness of the OST program to recruit people with combined dependence".
[4] UNODC Regional Meeting "Methadone Maintenance Therapy through the Eyes of Law Enforcement Agencies" Astana, Kazakhstan, March 6, 2018.